Retail hours: Mon-Fri 9am-6pm; Sat 9am-5pm
Free brewery tour every Sat at 1pm - please arrive on time
New Arrival
Thursday September 18th - OKTOBERFEST!!
"O'zapft is!" Roll out the barrel of our Oktoberfest lager which features Weyermann Munich malt, imported German Perle hops for bittering, and German Hallertau hops which are prized for their delicate aroma. A long, slow cold storage softens the malt flavours and makes this the only beer that should pass your lips when you hear the call of the Oom-pah band
2013 Half Pints Pro Am challenge brew to be released at Half Pints brewery on Thursday September 25.
Introducing Simcoe Spruce!
The winner of the 2013 Half Pints Pro Am challenge and best in show brewed by Mr Dean Kelly. A Pale Ale infused with Spruce tips, this flavour combination is sure to tantalize your taste buds! This one off batch will not last long!
Half Pints Pro/Am Challenge 2014
Visit the Winnipeg Brew Bombers webpage for details
http://winnipegbrewbombers.ca/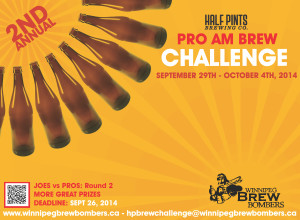 Seasonal Releases
Calling all hop heads!! The Humulus Ludicrous will be available at the brewery on August 9th 2014. Get it while it's fresh!!!